Every great painting includes extraordinary techniques and features that collectively add to the
overall impact of the artwork. When vivid and unexpected color combinations may stun the
viewer, and artists may use patterns to create a sense of serenity, texture in art is an innovative
technique that gives my artwork character, allowing it to be seen without feeling.
Texture as an Invisible Sensation
Different mediums have different ways of expressing texture. Using a wet brush, I create
smooth, sleek surfaces to create a feeling of calm or tranquility. On the other hand, I may use a
dry brush to create rough and jagged textures to convey a sense of chaos or unease. Texture
can help set up the atmosphere of a scene, significantly affecting the physical and emotional
effects of the piece. I apply a thick layer of paint through the impasto technique, giving my
artwork a three-dimensional quality while conveying motion and emotion.
Signature Techniques
As a composer of color, shape, and energy, I use uniquely developed painting techniques that
set my artwork apart from anything people have seen before. Through "lacquer paintings," "soft
paintings," and "window paintings," I aim to create artwork full of optimism and beauty.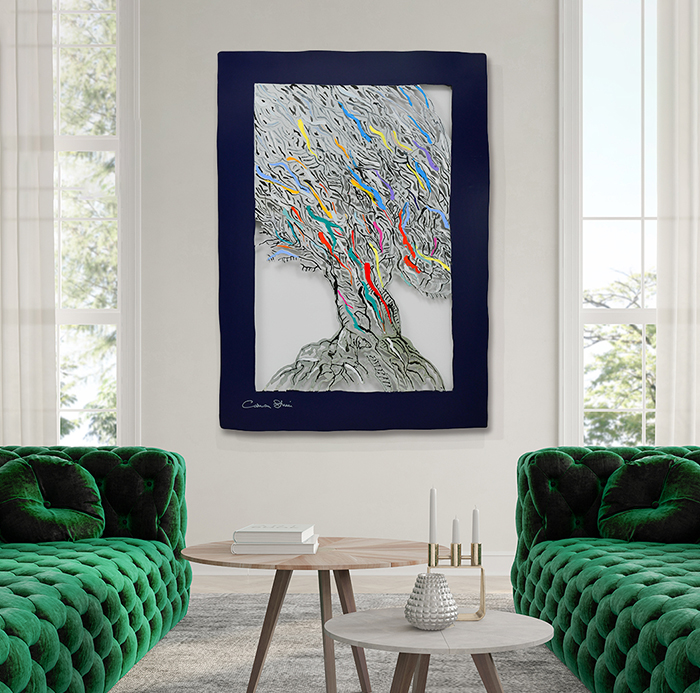 Lacquer Paintings
"Lacquer paintings" are composed of colorful paints on a wood or metal panel adorned with gold
or silver leaf. After the colors are completely dried, I apply layer after layer of lacquer to the
surface to give it a glowing effect. Finally, I hand-polish the piece between each lacquer coat to
give the surface a uniquely shiny look.
Soft Paintings
I invented "soft paintings" in 1977 and was the only one in the world who used them for many
years. Starting with a colored drawing, I layer fabrics of various textures and shapes and
interlock them to the background using a threadless 9000-needle sewing machine. The colorful
materials blend, creating a harmony of vibrant colors.
Windows
I wanted this technique to seem like my audience was looking through a window, sparking a
natural curiosity while creating a clear distinction between the outside and the inside. I start with
a wooden box and paint the inside of it. Then I attach a handmade wooden frame to this box,
creating the illusion of looking through a window to a landscape or room. The frame is then
gilded with gold or silver leaf and layered with many coats of lacquer, using my lacquer painting
technique to create a painting with many levels.